Working together with you
As always, we welcome and value your feedback, and our Ticketing and Supporter Services teams continue to be available for you to contact. We take note of all the feedback supporters provide to us, using your calls, emails,  letters, survey responses, tweets, and of course the discussions we have with supporters' groups, to form a measured understanding on any views and suggestions relating to Club policy and services. Your feedback helps us to identify the matters that are most important to the fanbase, so get in touch! 
We're always working hard to make sure any areas for improvement are targeted in order to make our service and the supporter experience better for you. Looking back over the past few seasons, we're proud to say that a range of initiatives have been introduced working with and for our supporters, using the feedback we've received from you across all of our channels.
Growing our model for supporter engagement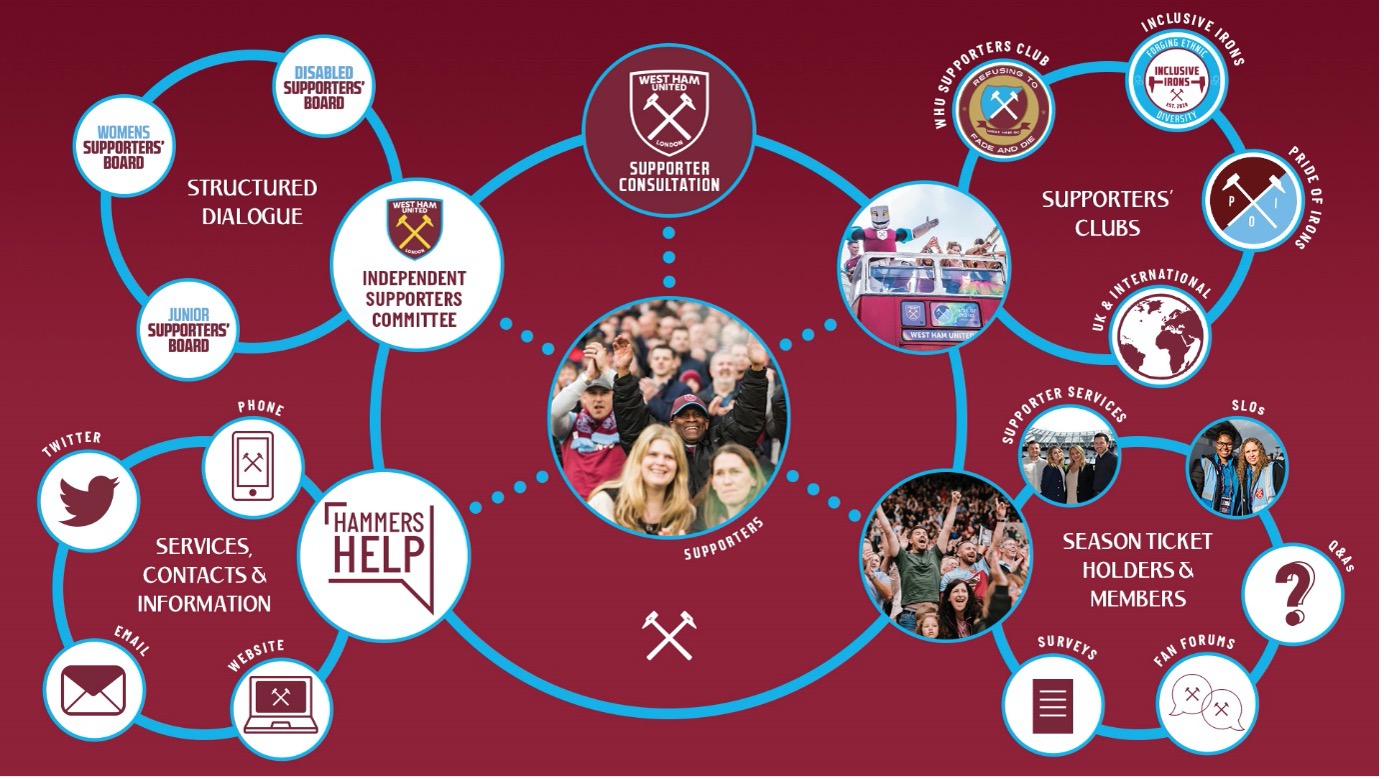 This season, the Club is delighted that we have established a brand-new relationship with the Independent Supporters' Committee which we hope will benefit the experience of supporting West Ham United for all of our fans. We're looking forward to continuing and growing our relationship with the ISC who play a key role in our wider structure for supporter consultation, working alongside the Club's multiple channels of supporter engagement, including our dedicated Supporter Services team, 50-strong Matchday Supporter Liaison team, the Hammers Help Twitter handle @westhamhelp, Hammers Help Centre, Disabled Supporters' Board, Junior Supporters' Board, and West Ham Women's Supporters' Board, UK and International Supporters' Clubs, as well as regular surveys, personal communication, points of contact, and the recent addition of the Hammers Hub, created in direct response to ISC feedback.
Introducing more ways for fans to contact us with feedback

The Club has increased the number of channels available for supporters to be able to contact us with their feedback. This includes the introduction of @WestHamHelp, with West Ham United being 1 of only 5 Premier League clubs to have dedicated Supporter Services Twitter handle; the Hammers Help Centre a 24/7 self-service portal designed to provide help to supporters on a broad range of topics, with multiple options to contact the team. Our Supporter Services team has grown each season since 2016, with six team members, and 50-strong Matchday Supporter Liaison team. The team are here Monday to Friday and on home and away matchdays to support fans with anything they need.
Our model for supporter consultation has also grown, with the introduction of the fan-led Independent Supporters' Committee this season, the Disabled Supporters' Board, Junior Supporters' Board and West Ham women Supporters' Board. 
Increased communication

The Hammers Hub was developed following consultation with the Independent Supporters' Committee, who requested a central hub for information relating to the return of supporters to matches. The Hammers Hub has been used as a one-stop shop for all of the Club's communications to supporters about coming to matches at London Stadium, and we will continue to work alongside the ISC to review Club matchday communications and taking onboard the advice of our supporters throughout its development.
The Club has also continued to communicate personally with all Season Ticket Holders throughout the pandemic, providing a personable service and being on hand to support our most loyal fans with any queries and assistance.
MATCHDAYS
Bringing the stands closer to the pitch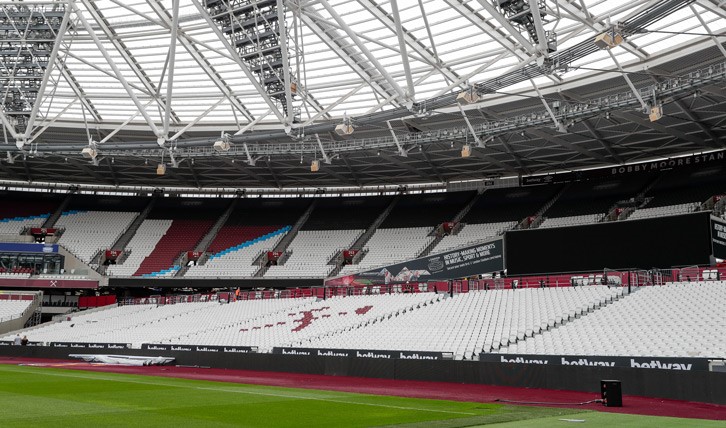 The Bobby Moore and Sir Trevor Brooking stands have been brought closer to the pitch and squared-off in line with a more traditional football stadium configuration as the next step in improving the overall supporter experience at London Stadium, something fans wanted and the Club has delivered, after naming the Billy Bonds Stand and introducing more claret and blue in the previous season. 
 
The Club worked hard to ensure the challenging process of relocating supporters was as smooth as possible. Although West Ham United were not able to host fans at London Stadium to discuss the plans in person due to the social distancing measures introduced to help contain the outbreak of COVID-19, the Club created a bespoke online portal for fans to be able to see the reconfigured stands alongside Computer Generated Images showing views from seats, so that they were fully informed ahead of Season Ticket renewals being announced for the 2020-21 season.

Each Season Ticket Holder received a personalised email, including a log-in to the aforementioned portal, and personal phone calls from the West Ham United Ticket Office were made to those fans whose seats were moving from the Billy Bonds Stand, as well as being on hand to assist and answer any questions from supporters who sit in the Bobby Moore and Sir Trevor Brooking lower tiers.
Creating Fan Zones and Family Fun
We have created our Fan Zone outside of the Billy Bonds Stand with a wide range of food and drink available as well as a variety of entertainment, including live bands, DJs and interviews with Hammers Legends on matchday. Fans have flocked to the fan zones before and after the game taking in the matchday atmosphere!
We've also hosted Family Fun Days at London Stadium, With games and activities, including foot darts and face painting, an open training session and dozens of lucky youngsters being invited onto the pitch for a kick-about with their heroes, the event proved hugely popular with the Claret and Blue Army.
Flags and fan mosaics displayed at London Stadium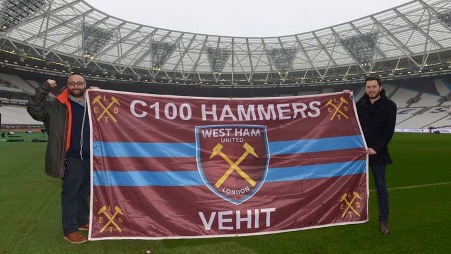 Our Supporter Services team remained on hand to support fans and answer queries during the pandemic, including through displaying supporter flags around London Stadium and with two large mosaics proudly sitting in the stands to ensure the players felt your support, even if you couldn't be there at matches played behind-closed-doors.
A better away travel experience
The Club agreed to explore the provision of a safer drop-off location for supporters returning to the local area after using the official club coach travel for away matches. The Club welcomed the ISC's suggestion to look at this and have been trialling a new location for supporters to park and ride locally in order to support the safety of our supporters and our continued commitment to equality and inclusion.
ISC Chair Jim Dolan said "There are many more things we can and want to achieve together but in the short time that the ISC and West Ham have been working together, these agreements show that there is the willingness and ability to get things done.
 
"Community is at the heart of what makes West Ham supporters special and with agreements to help provide tickets for our brave NHS staff, drop-off points to keep fans safe when returning from away matches and working to bring about a return of local sellers, I hope fans can see that we are working to strengthen those community bonds and build an enduring relationship that delivers on the proud traditions of West Ham United and its loyal fanbase."
Free sanitary products in all women's and accessible toilets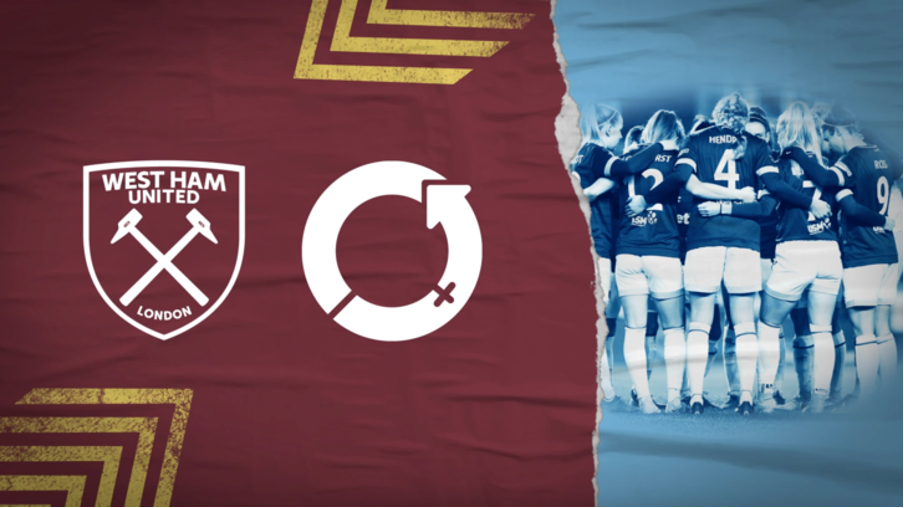 Supporting the On the Ball campaign and through listening to our supporters, West Ham United were one of the first Premier League clubs to provide free sanitary products in all toilets and accessible toilets around London Stadium.
Stewarding
The Club introduced a range of new measures with the aim of improving stewarding at London Stadium on matchdays
The Club have listened to supporters' feedback and continue to work very closely with London Stadium partners including stadium management to continue to raise the standard of stewarding.
Measures included, writing to all ex-West Ham United stewards inviting them to work at London Stadium, former Boleyn Ground stewards deployed in areas where empathy with supporters is key, deploying the same stewards to the same areas wherever possible, increasing the number of Supporter Liaison Officers to 50 to support fans with queries, Club officials briefing senior stewards and supervisors about the Club, its traditions and fanbase
The Club also recently met with West Ham United Independent Supporters' Association, a member of the ISC, and have agreed to work together to explore how we can make further improvements to stewarding and the service provided to our supporters on matchdays.
Providing a fully accessible experience for supporters
The DSB has been a particular success story for West Ham United and Hammers supporters, with a number of positive initiatives actioned, including: increasing the shuttle bus service to 18 buses post-match and adding a new stop at Stratford International, the installation of RADAR lock system across all accessible toilets throughout the stadium, the creation of bespoke accessibility maps and information guides, the addition of new collections points for audio commentary devices, the introduction of accessibility passes for fans with non-visible disabilities, additional dedicated accessible routes around the Stadium and at Westfield, more accessibility signage around the Stadium, Club staff being trained in British Sign Language 101, and the mechanism for fans to contact the DSB directly via bespoke email address [email protected]
Safety Rails
Safety rails have been installed for around 3,000 spectators at the top Sir Trevor Brooking Stand Upper Tier. These rails are to ensure a safe matchday experience for both home and away supporters.
West Ham United, together with London Stadium, is constantly looking at ways to improve the overall matchday experience for supporters and this is a further step towards achieving this.
The new safety rails have been designed so as not to impact the enjoyment of supporters in these seats and the Ticket Office contacted supporters currently in these seats directly with full details and to answer any questions, as well as advise all of the options available.
The two recently-installed new stands in the Sir Trevor Brooking and Bobby Moore Lower Tiers have already been fully designed with any possible future developments with regards to safe standing already in mind so as to be compatible for future installation, to allow them to be adapted should there be any changes to Premier League guidelines on safe standing.
Mascot Package experience
Following positive and continuing discussions with the Junior Supporters' Board, the Club made changes to our mascot package offering. As well as changes to the pricing structure, three complimentary mascot packages will be available for each game once Premier League COVID regulations are lifted. This will be via a ballot to all Junior Season Ticket Holders and Claret Kids members aged between 6-12.
Virtual Mascot experience
During the pandemic, with supporters unable to attend matches behind-closed-doors, the Club introduced a complimentary virtual mascot experience. Six virtual mascot places were made available for each home fixture, with winners selected from Junior Season Ticket Holders and the public at random.
Catering and toilet facilities
London Stadium has almost 1,000 toilets and following supporter feedback, we changed the configuration of the toilets during our first season to increase the number of male toilets available and assist all supporters, alleviating queuing around the concourse. All of the toilets on the outer ring of the concourse are now male toilets.
Alongside Delaware North, the catering providers, we have been working to ensure all the space inside the ground is used as effectively as possible. Over the last year, a number of portable carts and kiosks have been installed, especially in the Billy Bonds Stand to give our supporters as many options as possible when purchasing their half time pie or pint. We have additionally opened new outside areas, with food and drink sold outside the ground before the game, at half-time, and after the final whistle to offer more variety of food and drink and to alleviate queuing. London Stadium is now 100% cashless, speeding up queuing times.
Larger matchday services team
The Club introduced 50 Matchday Supporter Liaison Officers who sit within our Supporter Services team. Our SLOs work alongside other matchday teams including the stewards and catering staff to ensure there is support on hand to assist with any feedback, enquiries or complaints. The Supporter Services management team are also on hand to support, with all feedback recorded and shared with the senior management team across the Club.
Working with fans to create a safe and inclusive experience
Equality, diversity and inclusion are at the heart of West Ham United. We encourage everyone to stand side by side in supporting their team, providing an equal and inclusive experience for all of our supporters, whether that be on matchday, online, via our day-to-day services, or through consultation with our supporters' groups and forums, everyone is valued equally. 
We promote our values, of equality, inclusion and togetherness, and celebrate diversity amongst our fanbase at all times. However, we understand that we cannot legislate for everyone's behaviour before they come into the stadium or in the way they conduct themselves on social media or in their private lives. West Ham United is unequivocal in its stance - we have a zero-tolerance approach to any form of discrimination or abusive behaviour. 
We recognise our responsibility to dealing with incidents in the right way and the safety and welfare of our supporters is our utmost priority. All incidents reported to the Club, on matchday or any other forum, are subject to the Club's offences, sanctions and educational processes.
Working with supporters, the Club took on board feedback in order to adapt our communications on reporting incidents. Our supporters groups also play an active role in the Club's educational programme, joining us and Kick It Out in delivering educational sessions.
On matchday
The Club provides a number of reporting mechanisms on matchday to ensure that supporters can report any incidents discreetly and in confidence, this includes a dedicated SMS reporting service telephone/textphone number which is advertised in the matchday programme, on the big screens, on the Hammers Help centre, on WHUFC.com, via social media and in all of the gangways in the upper and lower tier of the stadium.
Should you have witness or experience any incidents on matchday you can report your concerns by:
Speaking with the nearest steward or Supporter Liaison Officer
Sending a text to the SMS reporting service on 07860 404 069
All incidents are reported to the Control Room. Text messages received are treated in the strictest confidence and are sent directly to the control room. This will enable the safety and security team to monitor and handle the situation at the time of it occurring.
The safety and security of all supporters is of paramount important to us and we are committed to ensuring that everyone has a safe and enjoyable experience while they are at London Stadium.
It is vitally important to our investigations that any incidents are reported to us at the time they occur. This will enable us to monitor the situation and take the appropriate action on the day. However, if you do need to report any concerns to the Club after the game, please contact [email protected]
Online or social media abuse
The Club routinely monitors all of its social media channels in order to identify and deal with any discriminatory posts online.
We do everything possible to ensure our online communities are safe spaces for all West Ham United supporters. We recognise that football cultivates a range of opinions from across the fanbase and so we ask that supporters engage on our platforms respectfully at all times, even when their views may differ. To help ensure our platforms continue to be safe and fun places for fans to enjoy, we encourage supporters to report any concerns to us and the platform host directly.
The Club will not tolerate any form of discrimination on its social media platforms and will take action against any offending posts working with supporters and the platform host or moderator. 
If supporters do witness or experience any form of discrimination online, they should report it to us and the platform host/moderator in the following ways:
Twitter
By DM to @WestHamHelp
By reporting the post and the user account directly to Twitter
We recommend that posts are reported to the Club and to Twitter
Facebook
By DM to @WestHamHelp
By reporting the post and the user account directly to Facebook
We recommend that posts are reported to the Club and to Facebook
Email
All enquiries and concerns are treated in the strictest confidence; however, we will require as much information as possible about the situation and any concerns you may have in order to conduct a thorough investigation. 
All complaints are thoroughly investigated and there are a number of ways that we choose to take action. Whether it be via the suspension or banning of membership, Acceptable Behaviour Agreements, or via educational sessions, all situations are reviewed on a case-by-case basis and outcomes are designed to support the safety and welfare of all supporters and staff and to ensure that everyone can continue to support their team.
CELEBRATING OUR HISTORY AND HERITAGE
West Ham United's European Champions Statue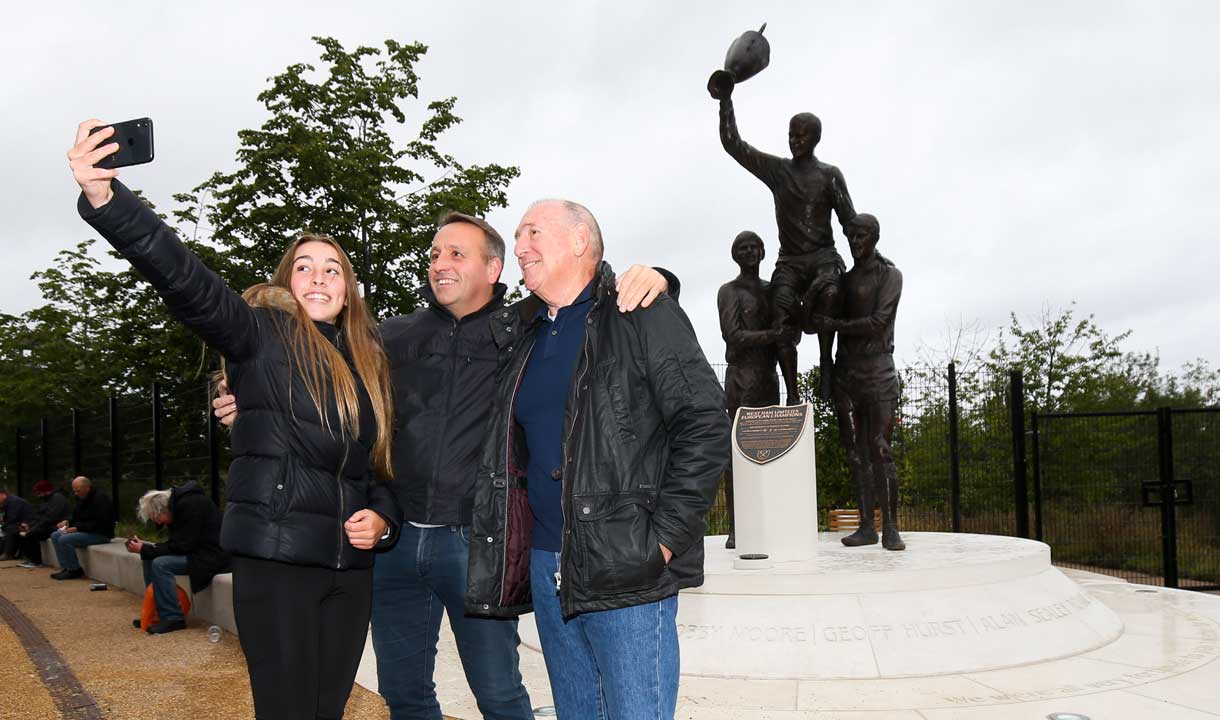 The Club continues to celebrate our history and heritage in many ways, most recently with the recent unveiling of West Ham United's new statue, paying tribute to Bobby Moore, Sir Geoff Hurst and Martin Peters, and the Club's 1965 European Cup Winners' Cup victory.
Supporters attending the Group H clash against Rapid Vienna were among the first to view the bronze sculpture, as the Club continues to involve its supporters at the earliest opportunity and at a fitting time with the Hammers set to host European action once again. 
Sir Geoff, along with Bobby's daughter Roberta Moore and Martin's wife Kathy Peters, who all played an integral role throughout the design process, were at London Stadium on Wednesday afternoon to reveal the stunning statue for the first time, joined by four other members of the 1965 ECWC-winning team – Brian Dear, Ronnie Boyce, Ken Brown and Jack Burkett - along with Hammers Joint-Chairman David Gold, Vice-Chairman Karren Brady, manager David Moyes, captain Mark Noble, Declan Rice and Sir Trevor Brooking.
Continued supporter consultation and feedback, including in more recent times from the Independent Supporters' Committee, provided a clear and widespread view from the start of the process to honour the Club's rich heritage at the Boleyn Ground and also reflect that at its new home. Furthermore, from early consultation it was clear that any design should focus on our three famous sons of the 60s – Moore, Hurst and Peters, who all came through the famous Academy of Football to reach the very pinnacle of the game in 1966, when they led England to World Cup Final glory against West Germany at Wembley. 
Celebrating our heritage through our kit designs – season by season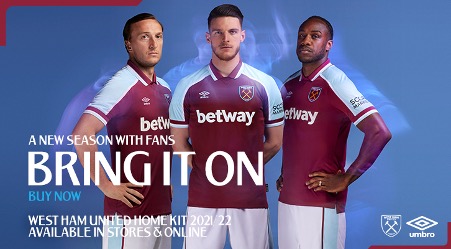 The 2021/22 season kit design evokes memories of Di Canio's unforgettable volley against Wimbledon in March 2000 – a goal voted the best ever scored at the Boleyn Ground – as well as that famous European awayday in Metz when Trevor Sinclair, Frank Lampard and Paulo Wanchope all found the back of the net to seal our UEFA Intertoto Cup success in August 1999.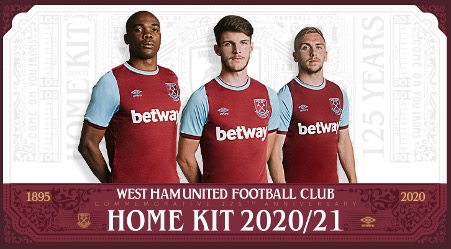 Inspired by the Club's greatest period, which saw the foundation of the world-famous Academy of Football, FA Cup and European Cup Winners' Cup triumphs and three Hammers lead England to FIFA World Cup glory, the 125th Anniversary Home kit is a modern classic with a nod to our glorious past.
'While we all want to experience more success in the future, West Ham United is a club that will always remember its past and pay respects to its heritage, and this kit does that perfectly'.
Mark Noble
West Ham United's 1980 FA Cup heroes reunited to launch the Club's 2019/20 Umbro replica kits.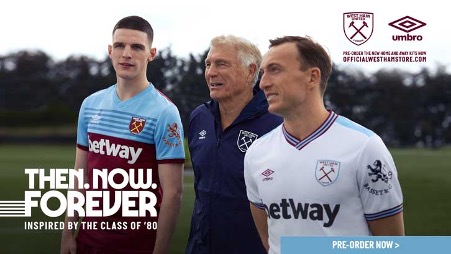 Sir Trevor Brooking, who scored the winning goal in the Wembley final victory over Arsenal, joined teammates Phil Parkes, Alan Devonshire and Ray Stewart in checking out the new kits.
Supporters met with Umbro and the Club and were consulted on the 2019/20 kit designs, with consultation to continue on future kit designs as part of the new model for supporter engagement.
Fans flying the flags at London Stadium
Working with supporters, the Club introduced 16 giant heritage flags flying so high at London Stadium on home matchdays. Fans and more recently, NHS staff, take the chance to wave them proudly before kick-off, with each one of the 16 flags displaying one of our historical Club crests.
Heritage murals, surrounding the concourse at our home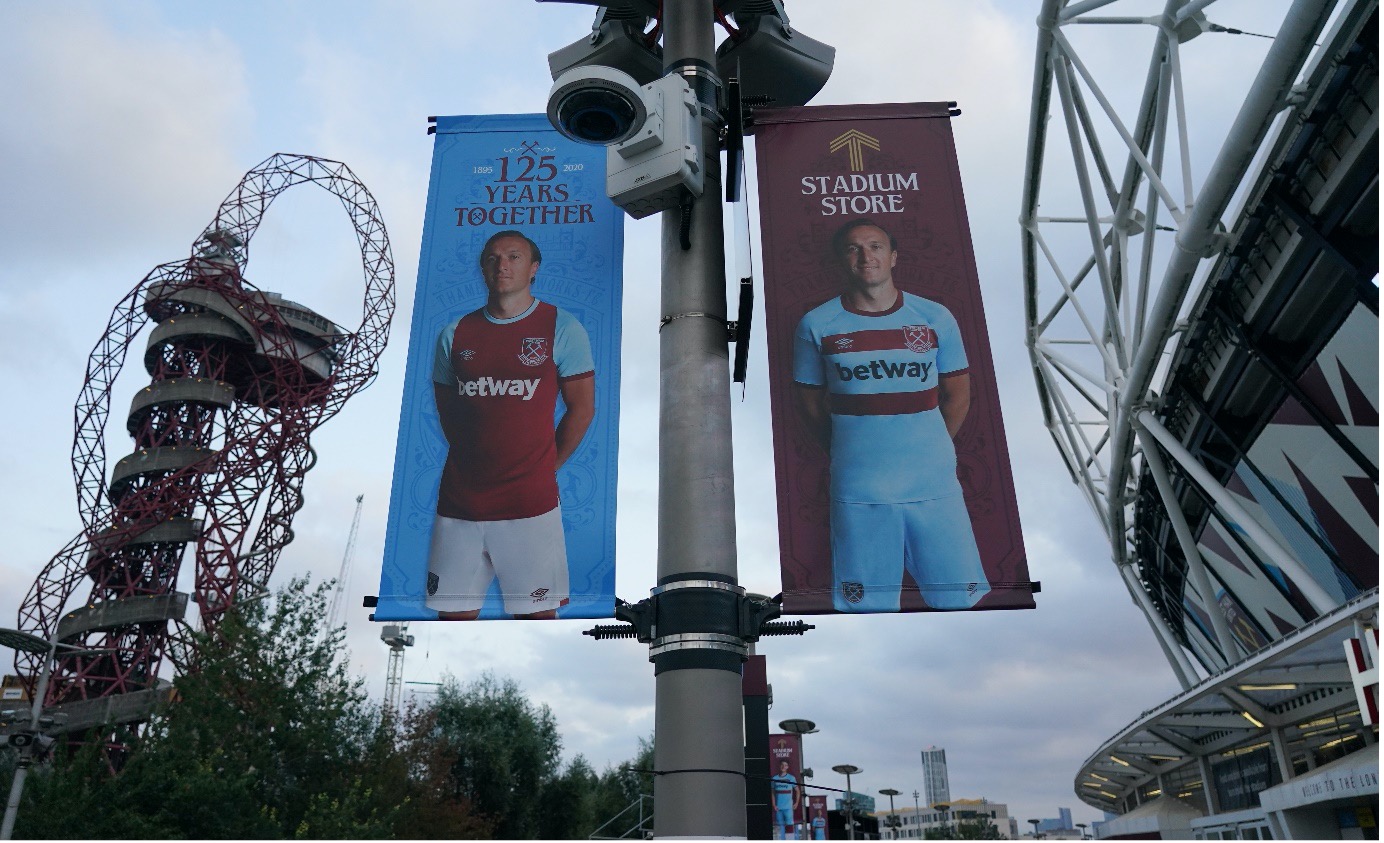 Heritage murals were created and are proudly displayed around the concourse at London Stadium, showcasing key milestones in our history and celebrating our heritage, with themes decided by supporters.
Celebrating our Claret and Blue heroes, past and present
Banners now feature around the outside of the stadium to greet supporters on arrival, celebrating our heroes in Claret and Blue both past and present.
London Stadium goes claret

The Club were delighted to introduce the Claret pitch surround at London Stadium, replacing the green track cover that has been in place since the stadium opened in the summer of 2016.
The Club committed significant additional annual funding to enable this fantastic addition to our home in line with fan feedback and to improve our supporters' matchday experience. 
Honouring Bobby with our supporters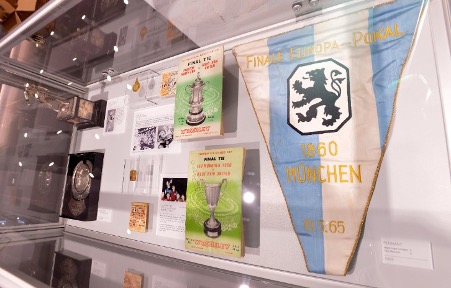 To mark the 25th anniversary of the tragic passing of Bobby Moore, West Ham United were delighted to announce the launch of a memorabilia exhibition in honour of our greatest-ever player.
The unique display was free to visit and located on the lower ground floor of the Stadium Store, giving Hammers fans of all ages the opportunity to gain a close look at some of most prominent and prestigious artefacts and honours from Bobby's life and career.
These include the actual shirt he wore on his West Ham United debut against Manchester United on 8 September 1958, his 1964 FA Cup and 1965 European Cup Winners' Cup winning medals, his 1964 Footballer of the Year award and his 1966 World Cup finals cap, along with a replica of his World Cup winner's medal, a matchday programme and a match ticket personally signed by all eleven England players on that famous July day at Wembley.
Alongside the memorabilia collection was a stunning three-foot high bronze sculpture of Bobby, seen in public for the first time after being commissioned by his daughter Roberta as part of a series of six sculptures to mark the 25th anniversary.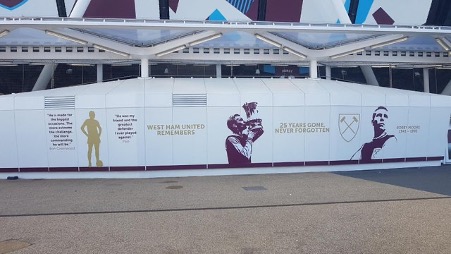 Remembering Bobby Moore – 25 years gone, never forgotten
Celebrating our 1980 FA Cup Final triumph
The 2019/20 season saw the Hammers mark the 40th anniversary of West Ham United's 1980 FA Cup triumph - and as part of the celebrations a special exhibition was created at the Club's London Stadium Store.
Hammers fans were able to see a whole host of special items from one of the Hammers' greatest-ever triumphs. Among the items on display were Alvin Martin's FA Cup winners' medal and match worn shirts from the Hammers heroes on the day. There was also a bronze boot owned by the goalscorer Sir Trevor and many other mementos of an unforgettable part of West Ham history.
We also paid homage to our famous FA Cup triumph in 1980 with new murals around the stadium and inside the Stadium Store, as well as the victory being the inspiration for our 2019/20 kit design.
Honouring our 125th anniversary at London Stadium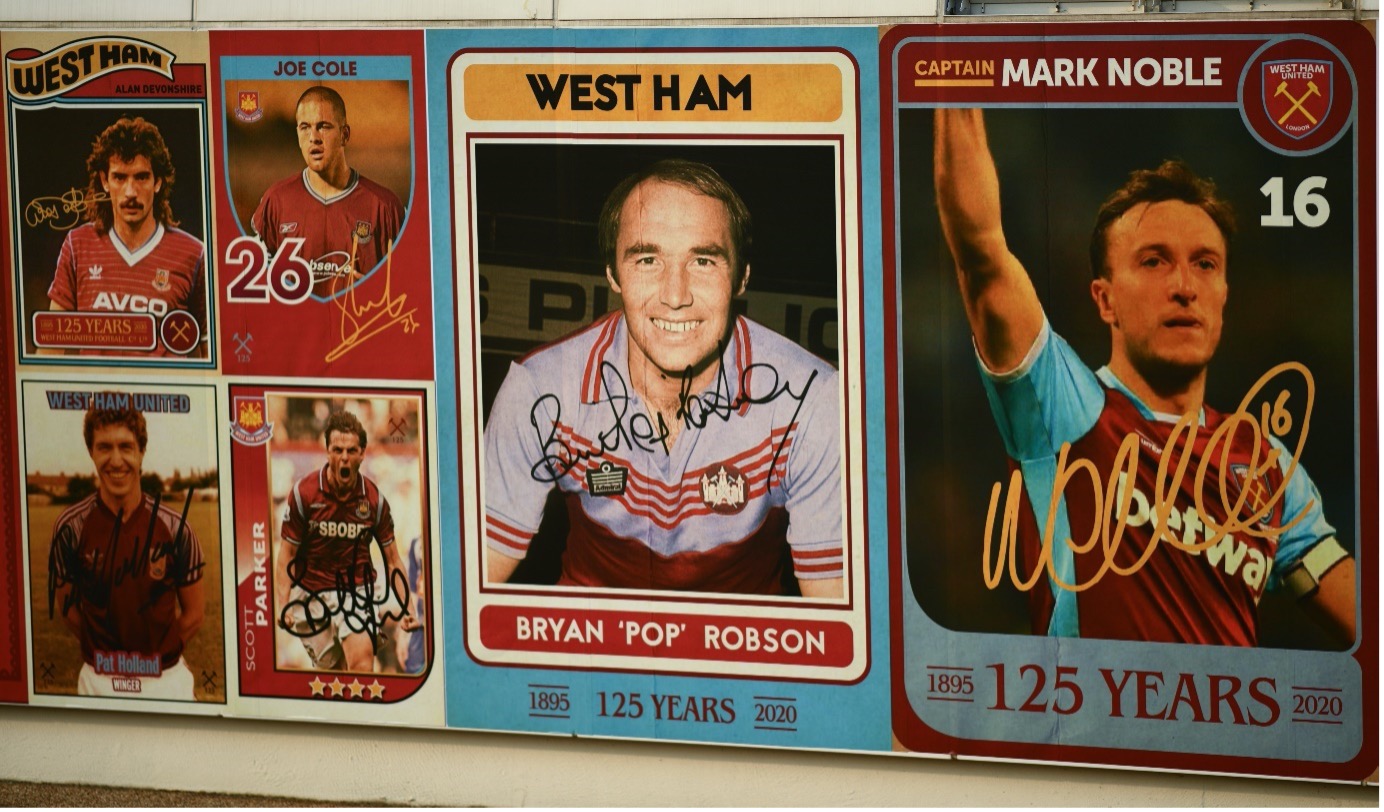 Despite much of the 2020/21 season being played without our loyal supporters being present owing to the pandemic, the Club celebrated our 125th anniversary throughout the season, across all of our channels. This also included celebrating our history at London Stadium, transforming the outside of the stadium with a new wrap, honouring Hammers players past and present.
Honouring Billy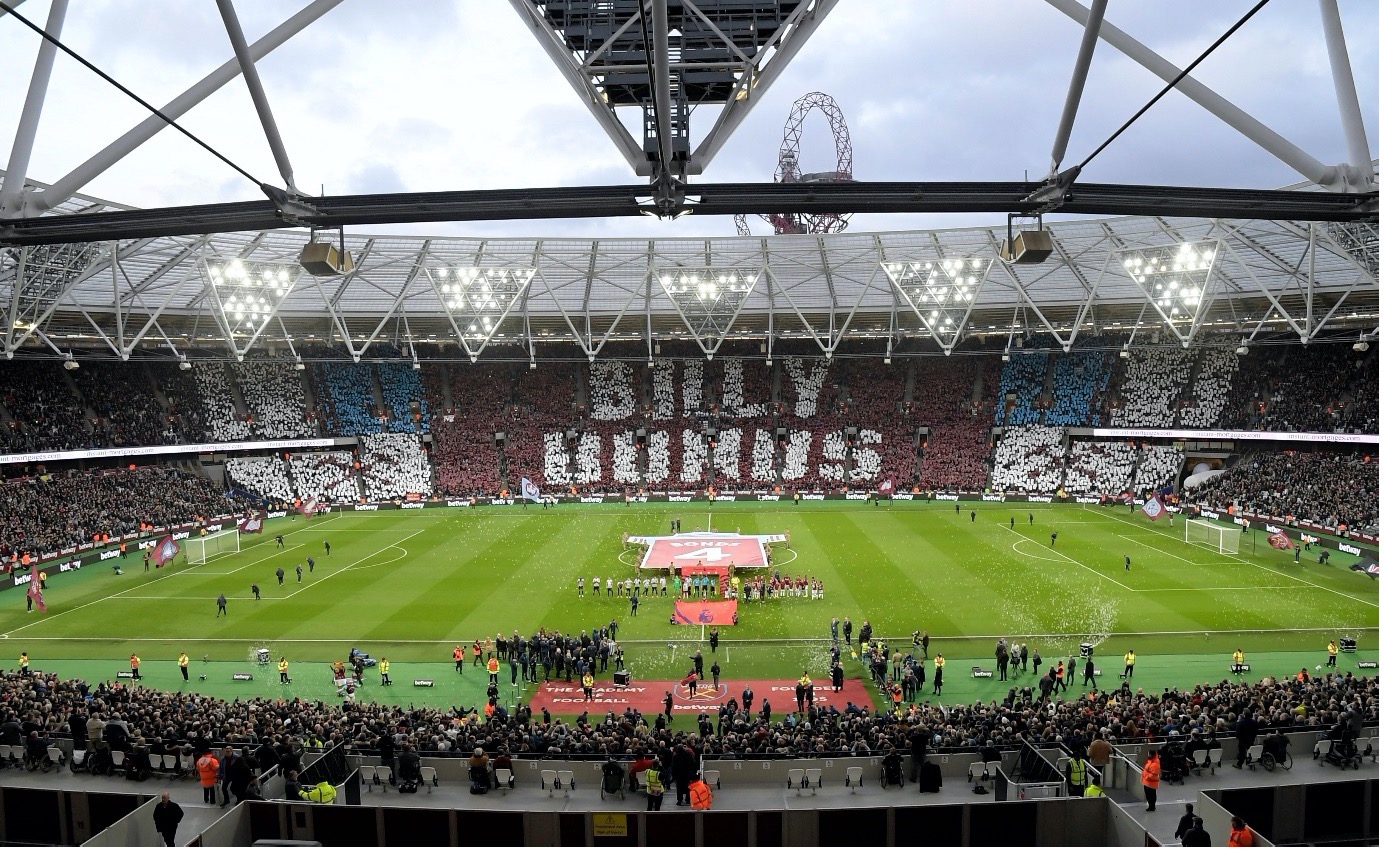 We also saw the opening of the Billy Bonds stand in 2019, which proved to be a memorable day for West Ham United, in particular for our loyal supporters, and of course, for one of the greatest players ever to wear the Claret and Blue. 
The Club has protected and preserved hundreds of artefacts of memorabilia that are all highly significant to the history of West Ham United. We will be creating new exhibitions to showcase the Club's historical items of memorabilia at London Stadium following the success of the Bobby Moore and 1980 FA Cup exhibitions in recent seasons. 
We will of course be consulting with supporters, including through the discussions we are having with the Independent Supporters' Committee, on what items to feature on display now that supporters are able to return to matches, without restriction.
We are committed to further honouring our history and heritage through our collection of memorabilia and have plans for this to be proudly displayed at London Stadium in the future for all of our supporters to enjoy.
Creating a lasting legacy at our former home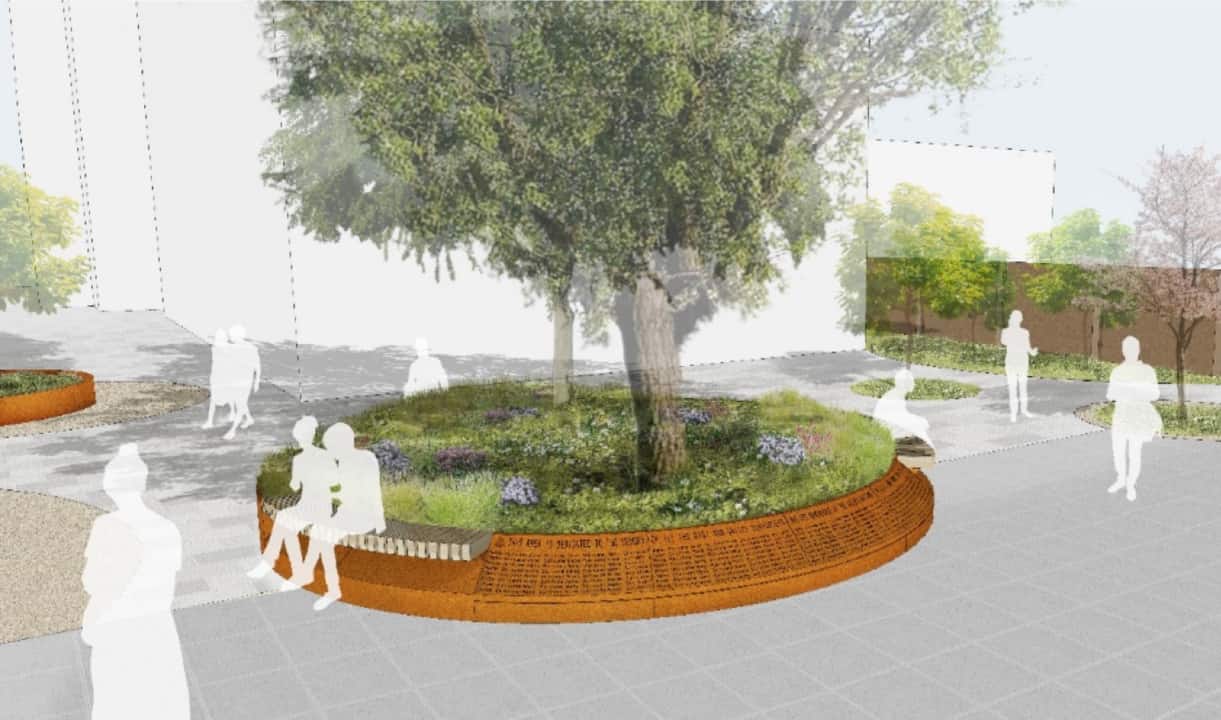 Since moving to London Stadium in 2016, the Club has remained in close contact with Barratt London, who own the site of our former home. Regular meetings have been held between senior staff on both sides since 2016 to ensure the Memorial Garden could be accessed securely, is maintained weekly, and to secure a lasting legacy to all of those supporters remembered at the Garden. 
We have always maintained a commitment to consulting with family members on any future plans for the area, and together we continue to do everything we can to locate and support those who have loved ones remembered at the Garden. This began with a series of consultation events held in the summer of 2018.
The thoughts and feelings of family members have always been our first priority and we have invited feedback on the proposals for the future of the Garden throughout the consultation with family members, via feedback forms and through conversations with Supporter Services and Barratt London Site Managers, who are always happy to help with enquiries or concerns. For more information visit the dedicated Memorial Garden section on the Club website.
Supporting former Boleyn Ground and local sellers
The Club and ISC both discussed their shared desire to see further opportunity for former Boleyn Ground/local sellers to be present close to the stadium on matchday. The Club has previously assisted the Rib Man in discussions with the stadium catering partner and welcomed his arrival at London Stadium. We will continue to explore this opportunity with the ISC, with both parties making a commitment to work together with a united aim in supporting the presence of former Boleyn Ground and local tradespeople on matchday in any way possible.
Ticketing
Support for our loyal supporters during COVID
During the pandemic, the Club was committed to ensure that the personal situations and requirements of our supporters were treated with the utmost care and attention. We understoof that each Season Ticket Holder would have different circumstances and factors to consider, so we provided a range of options on our Season Ticket renewals:
The Club froze Season Ticket prices for both the men's and women's 2021/22 campaigns – the second consecutive year for the men's team across all bands, reaffirming the Club's proud position as the home of affordable family football in London 
Club London seasonal prices were frozen for 2021/22   
The option to transfer a Season Ticket to another supporter remains in place for the 2021/22 for Season Ticket Holders who want to retain their seat but are not ready to return just yet   
The Club has introduced an option for those Season Ticket Holders who are 70 or over or are categorised under Government guidelines as 'clinically extremely vulnerable' to defer their Season Ticket for one year at no cost should they not wish to return immediately  
Any supporter who did not renew their Season Ticket for the 2020/21 season has had the opportunity to return as a Season Ticket Holder for the 2021/22 season
Digital ticketing support
In line with guidance, the Club is working towards the implementation of a digital ticket solution and, in due course, all Season Ticket Holders will be able to download a seasonal digital pass to their smartphone in order to gain access to London Stadium on matchdays, with the aim to have this in place soon after the opening home fixtures of the campaign.
The digital pass will only need to be downloaded once for the 2021/22 campaign and will replace existing Season Ticket access cards and paper tickets for all home fixtures, including UEFA Europa League and domestic cup ties. An email will be sent to all Season Ticket Holders that includes all the information they need to download their seasonal digital pass.
The Club is also conscious that a small number of Season Ticket Holders may not have access to a smartphone, and we will continue to be inclusive and make sure we do everything we can to support all of our fans. Those Season Ticket Holders who do not have access to a smartphone will be able to request a physical Stadium access card with their photograph on. More information on how to request this will be sent directly to Season Ticket Holders via email.
How to guides were also created to help supporters in accessing the stadium, with Ticketing and Supporter Services staff available to assist at all times. 
This has been achieved by consulting with the Independent Supporters Committee and taking on board supporter feedback regarding views on their return to matches, including on digital ticketing and solutions for supporters.
Refunds before Christmas
During the pandemic, Season Ticket Holders were provided their pro-rata refunds for our Manchester City match and the further four home fixtures – against Fulham, Aston Villa, Manchester United and Crystal Palace – before Christmas as the Club has brought forward the payment dates for all five fixtures as we understand and appreciate that in light of the latest announcements supporters are unlikely to attend matches before Christmas and there may be a greater need for this among our supporters over the festive period.
The Club also provided Season Ticket Holders with the offer to add a further 10% to any match refund that is selected in Club Cash, providing a convenient, transaction-free way to boost your balance. 
Ensuring our fans can watch the team without PPV
During the pandemic, an interim broadcast solution was proposed across the Premier League to ensure all supporters had the opportunity to continue to watch their team play live while games continue to be played without supporters' present – something which was important to us as a Club. 
However, following feedback from supporters, the Club expressed our view that the PPV price per game should be cheaper, especially as we understood it to be an important matter for our fans. PPV pricing was subsequently reviewed and discontinued, making matches free to air for all fans.
The Season Ticket Priority List
Taking into account the feedback from our supporters, our revamped 2022/23 Priority List will have enhanced features, including regular updates and the ability to see the likelihood of getting a ticket in that upcoming window through a dedicated online portal.
Changing away ticketing policies
Following feedback from supporters, the Club introduced three new policies in regard to away ticketing in order to provide the fairest policy across the board for all supporters, recognising those loyal supporters who regularly travel away from home to support the team, as well as our 10,000 Junior Season Ticket Holders, who are eager to begin that same journey, and to have an opportunity to show their great support for West Ham United on the road.
Policies included a way to return tickets to the Club if fans cannot attend, operating a ballot system on away tickets, with a sliding scale based on the allocation we receive, and Priority Points allocated only upon attending a match.
SUPPORTING OUR COMMUNITY
The Club launched a series of community initiatives throughout the pandemic to support our fans and our community.
Hammers at Home - Our online community initiative offering support, assistance and regular interaction with the Club's fans during this uniquely challenging and unprecedented time.
Hammers at Home included technical support for fans who needed it, calls to fans who may be lonely in isolation, cooking guides with the Club Chef, fitness and keep fit videos with our coaches, games to keep juniors busy in the holidays, and quizzes for our Any Old Irons community.
Hammers Heroes – West Ham United is truly thankful for the amazing efforts of NHS staff and other key workers during the coronavirus (COVID-19) outbreak.
Stories and photographs were received from scores of Claret and Blue-clad supporters working in uniquely challenging circumstances to provide key frontline services to the public and their efforts were celebrated across Club channels.
To find out more about West Ham United in the Community click here.
Calls to over-70s and accessibility supporters
Since the pandemic began, alongside letters from captain Mark Noble, more than 5,000 calls were made to Season Ticket Holders aged 70 and over, by manager David Moyes, England international Declan Rice and the Supporter Services team – with some incredible friendships and bonds formed along the way.
Any Old Irons – Facebook community support
The Club's Supporter Services team managed the Any Old Irons Facebook community group, providing a range of content, activities and support for our supporters during the pandemic. 
Supporting Irons Supporting Foodbanks
West Ham United Joint-Chairman David Sullivan made a further significant donation to enable Irons Supporting Foodbanks to provide 5,000 Easter eggs for local youngsters.
On top of 300 Easter eggs donated by the Club, Mr Sullivan has made a personal donation of £4,000 to Newham Foodbank after learning that it would otherwise have fallen short of its target to deliver to children.
Mr Sullivan has been a regular supporter of the fan-led organisation, which collects food and cash donations for Newham Foodbank in Beckton to be distributed to families in need.
Last year, the Joint-Chairman made personal donations of £3,500 to cover the donations that Irons Supporting Foodbanks would have collected at the final five home games of the 2019/20 season, which were played without fans present due to the COVID-19 pandemic, and £1,500 to the Merseyside PPE Hub which provided 1,300 protective visors to east London and Essex hospitals and care homes.
And in November, when the Joint-Chairman heard the Newham Foodbank needed a new delivery van to collect donations and deliver food and clothing across one of England's most deprived communities, he made a further £18,000 personal donation.
This followed Mr Sullivan making a personal £25,000 donation to FareShare UK, which will go towards free meals through the Child Food Poverty Taskforce, founded by the inspiring Marcus Rashford MBE, while the Joint-Chairman has also donated to homelessness charity Crisis at Christmas for five consecutive years.
John Ratomski, from Irons Supporting Foodbanks, welcomed both the Club's and Mr Sullivan's donations to Newham Foodbank at a time of year when many youngsters have to go without a traditional Easter treat.
He said: "Once again, we are delighted to receive the support from the Club with the donation of the 300 Easter eggs for Newham children, as well as of course another personal donation from West Ham United Joint-Chairman David Sullivan, who has ensured well over 5,000 Easter eggs will be distributed throughout the borough by Newham Foodbank and a network of church foodbanks from Stratford to North Woolwich."
To get involved and support Irons Supporting Foodbanks with their amazing work, please head to their JustGiving page.
EQUALITY, DIVERSITY, INCLUSION
Celebrating equality, diversity and inclusion
The Club was awarded the Premier League's Equality Standard Advanced level, recognising the Club's ongoing dedication and commitment to equality, diversity and inclusion (EDI).
Following a rigorous and in-depth assessment by an independent panel, focusing on evidence of equality, diversity and inclusion across all areas of the Club and its charitable Foundation, the Premier League concluded that the Hammers had made fantastic progress since earning the Intermediate level of the award back in 2018, taking into account the culture, policies, leadership and people, along with the work done to encourage people from all communities to participate in Club activities.
Support for the NHS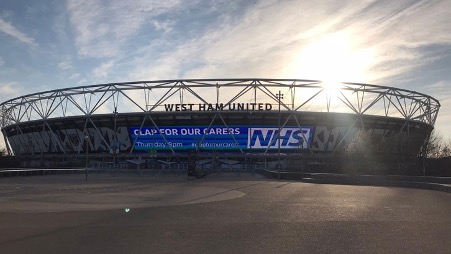 The ISC Ticketing Subcommittee - one of four subcommittees formed by the ISC – suggested that supporters are able to join the Club in its efforts to support the NHS, with fans being able to voluntarily use some of their Club Cash to purchase and donate tickets for NHS staff, via the West Ham United Foundation. The Club has committed to supporting this fan-led initiative, accompanying the support and access to tickets that the Club currently provides to the community – which includes tens of thousands of tickets each season. This show of unity is another example of the Club and supporters working together to support the community throughout the pandemic, following our joint work to support the Irons Supporting Foodbanks initiative.
During the pandemic, the Club made a pledge of support for the Club's local NHS trusts across East London and Essex, by committing to a range of new positive community initiatives which will help the NHS to provide vital support for patients and staff and see a total of £28million be invested by the end of 2021 across local communities, with the purpose of motivating, inspiring, educating and responding to local need.  So far, these programmes have created more than £1.4million of annual savings to the NHS. 
The Club worked with Barts Charity and King George and Queen's Hospitals charities to ensure our support was focused on addressing the things that frontline NHS workers needed, which included promoting awareness of their critically important charitable appeals and fundraising initiatives for equipment and staff wellbeing, with Club Captain Mark Noble playing a leading role in the NHS charity campaign. In addition, the Club made an initial donation of 1,000 shirts for West Ham supporting patients, and provided special experiences for patients, their families, and NHS workers, including supplying tickets to matches and morale boosting messages from players including Declan Rice and Aaron Cresswell, helping to raise the spirits of those who have been through so much during the pandemic.
 
Full information on this new initiative will be communicated to Season Ticket holders in advance of the new season.
Get in touch 
West Ham United Football Club are committed to providing the best service to our fanbase and any supporters visiting London Stadium.
All feedback received to the Club plays a vital role in helping us to achieve this, so please do not hesitate to contact us should you have any queries, concerns or suggestions that you would like to share with us.
All feedback is gratefully received and helps shape the future of West Ham United. 
The best way to get in touch with the Club is to contact our Supporter Services team (pictured, above) through one of the following methods: 
Email: [email protected] 
Twitter: @westhamhelp
Online: Hammers Help
If your question is for a specific department, you can find their contact details here.
For general queries or questions, you may find your answer on the Hammers Help Centre, our new 24/7 self-service portal designed to provide help to supporters on a broad range of topics. Here you can find the answers to all our FAQs! 
For further details, you may wish to view our Supporter Charter.
To view information on GDPR see our Privacy Policy.
For our complaints procedure please see here.